Instant Traffic, Crafted to Convert.
Powerful, performance-based PPC Scroll Arrow
Have a question, Not sure where to start?
Get a FREE One-on-One Consultation
A Careful Blend of Creativity and Science
Competing online is more challenging than ever. Targeted traffic attracts the right customers at any stage of the buying cycle. Imagine reaching your exact client when they are searching for your exact product.  Imagine delighting your customers with a tailored message, enticing them to visit your site where they are just a few clicks away from checking out, adding to your bottom line.
That's Pay-per-click advertising (PPC). Delivering a targeted ad to your potential customers at the exact moment they are searching.
Generating qualified traffic goes much deeper than creating a few ads and selecting a handful of keywords. It involves in-depth research, testing, adaption, refinement and scaling. Our PPC team has a proven process dedicated to help your business hit the ground running.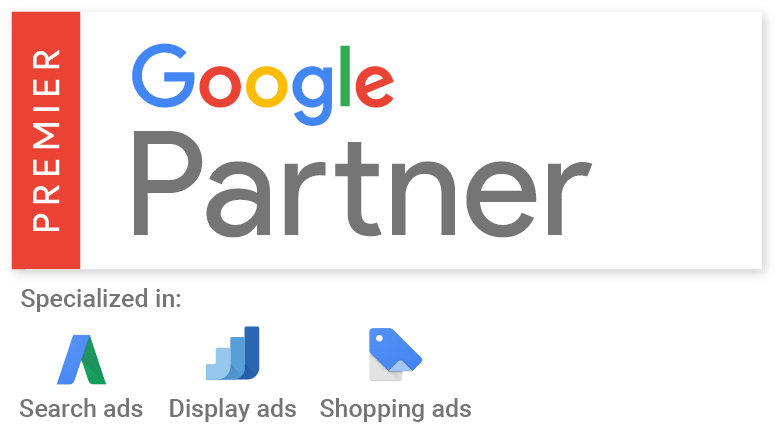 By working with our team, you get the advantage of having access to a Google Premier Partner. We know Google's advertising practices and standards like the backs of our hands, and our knowledgeable PPC experts can help you with your Ad campaigns, whether you're new to PPC or need help fine-tuning your hundredth campaign.
Pay-per-click advertising allows you to purchase top positions for relevant keywords on search engines and their partner websites. With varying PPC ad formats you can reach your target audience in numerous ways. Our PPC management services allow you to utilize a full suite of paid advertising formats that deliver instant traffic to your site.

Text ads that appear within a Google search above organic search results, search ads provide consumers with a snippet of information about your business, as well as a link to call you on mobile devices.
Visual advertisements that display across Google's Display Network, Display ads can take the form of text, image, video and rich media. More than 2 million sites are a part of Google's Display Network, all of which have places on them that Display ads can appear.
For example: your Display ad might appear between paragraphs in an online news article, to the right side of a block of text on a blog, or in a bar at the bottom of a popular mobile app.


Have you ever visited a website – while considering the purchase of a product or to get more information about a service, only to have it follow you around the internet – from search engines, to news articles, to social media in the following weeks? The advertisements you saw are remarketing ads, and you can create them too.
Displayed above Google search results, Google Shopping ads include product images, prices and store information.

Don't Think PPC Is for You?
If your business is struggling to gain a foothold in the marketplace, looking to expand, or improve growth this year – a proper PPC can make it happen. PPC advertising is ongoing – when PPC is executed correctly, your business should be making a positive return on investment. PPC continues to drive business through all stages of your business – from startup to IPO.
Ongoing refinement, routine maintenance all while staying on top of your competitive landscape. Make no mistake effective PPC management takes an understanding of your industry and how PPC works. This means our skilled PPC managers work with you to understand your industry, how your customers are searching all to deliver the most targeted ads to drive business your way.

With Search, Shopping, Display and Remarketing ads available, there are a variety of solutions to deliver the right message for your business.

Whether you're a small, local shop or a global brand, targeting options allow you to choose exactly where your advertisements will be seen.

With Google Ads, you get to choose your daily budget and are able to increase or decrease budget as needed.

PPC advertisements appear above organic search results, putting you at the top of the search page (and the top of searchers' minds).