Professional copywriting services that make an impact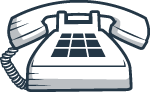 Have a question, not sure where to start?
Get a FREE Social Strategy Session
Write for People (And Google)
It's Not Cheating If You Copy from Us
Effective copywriting tells a story. Several of Google's latest updates have had a strong focus on effective, user-friendly copy that helps answer searchers questions.
Our content marketing experts know not only how to write – and write well – but also write in a way that serves both people and algorithms. We can produce effective copy to use throughout your website, SEO-friendly descriptions to help your products rank, strong and succinct email campaigns, or blog posts that boost your visibility and credibility as an expert.
Your products and services must be described not only for prospective customers, but also in terms that search engines understand.
We create a content marketing strategy that aligns with your core values and your audiences' wants, needs, and preferred ways of consuming content. That's the power and importance that content has in the modern age.
Engage your audience with thought-provoking, industry-leading posts that inform and entertain.  Our blog writing services provide relevant content, crafted to drive traffic and rank.


Create a lasting message that sells your services and promotes your products 365 days a year.  Using search engine-friendly terms, we can help tell your businesses story.
Experience the power of tailored press release writing from Mainstreethost.  Delivering the right message and proper distribution, our press release marketing services get the word out a quickly and effectively.


Nurture and delight your prospects with personalized emails crafted to grow your business while connecting you to your customers.
Engage your audience with persuasive product descriptions constructed to inspire action.  Showcase the value of your product or service with unique copy written with conversion in mind.


Downloadable content provides a new way to grow your audience. EBooks are a proven method of educating, capturing and nurturing leads. Our writers/ graphic designers collaborate with you to create a professional ebook to generate leads.